How Do I Clean My Computer
It doesn't take long for a desktop or laptop computer to collect dust, get a sticky keyboard and get smudges on the monitor. If you use your computer around kids, sit outside with your laptop or have pets, your computer is probably due for a good clean.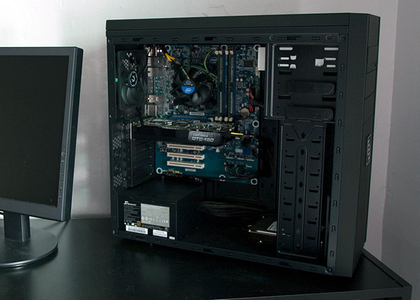 Why clean your computer?
Cleaning your computer can improve its performance

Cleaning can also reestablish connections to help it run faster and more smoothly

It may prevent it from overheating (and therefore shutting off)

It can help sticky keyboard keys
With a few household items and specific cleaning solutions, you can clean your computer yourself in as little as 10 minutes.
What you need:
Cloth - for cleaning the outside of your computer; soft cloths for car detailing are great for this. Paper towels can work in a pinch. (Cloths aren't great for the inside of a computer because they generate static electricity-not good for electronics.)

Water or Rubbing Alcohol - these are best because other solvents can be harmful to plastics in your computer.

Bottled/Compressed air - great for getting dust, hair, cigarette particles and fuzz balls out. This can be one of the best things to do to clean your computer.

Q-Tips or similar cotton swabs

CD/DVD Drive and the cheap usb flash drives, Cleaning Kit
Turn off your computer before you start.
Don't spray any liquids directly on or into your computer. Spray a cloth first, then wipe.
Don't use a vacuum for the inside of your computer. It generates a lot of static electricity-not good for electronics.
If you're cleaning CDs, you can use a regular cotton cloth. Wipe from the middle of the disc outward, against the tracks-don't wipe in a circular motion. Wiping around in a circle, following the tracks, can scratch the CD if there are any particles laying in the tracks.
The 3-Part Clean
1. The Outside - Wipe off the laptop or desktop with a cloth. If you have a wireless car mouse, wipe around the bottom and the surface; remove the scrolly ball to get dust out if it has one.
2. The LCD or Monitor - DON'T spray an LCD with glass cleaner or any liquid. LCDs are not made of glass and you can remove the protective glaze on them. Buff your laptop LCD with a cloth. Your monitor may be made of glass; if it is, use a damp cloth to wipe excess dust.
3. The Keyboard - Compressed air is great for this. Blow out around the keys and carefully under them if you see dust. Use a Q-tip around the edges. Some keyboard keys or laptop keyboards pop out easily so that you can clean under them. If you're comfortable with that, you can try-but don't force it if you're not sure.
You can also pop a CD/DVD Cleaning Kit CD into your CD/DVD drive to clean it and improve performance.
Keep your computer in a dry space and remember to leave room around it for the cooling fan. Laptops can quickly overheat if you have them on your lap or snug against something. Try to keep your computer away from pets, food, drinks and cigarette smoke. Computers are like divas. They don't like to be dirty and expect to be treated with respect.